VISADOS EMPRESAS is a registered trademark of CUCALON ESTEVEZ Y ASOCIADOS group of companies dedicated to support services in international mobility of workers.


VISADOS EMPRESAS is a registered trademark of CUCALON ESTEVEZ Y ASOCIADOS group of companies dedicated to support services in international mobility of workers.
In VISADOS EMPRESAS we are leaders in advising for the integral management of visas and travel authorizations for workers who have to move from their country of origin to carry out their work activity. From sales representatives and managers, through all kinds of technicians participating in any of the phases related to the installation of equipment or the provision of a service (installation, commissioning, repair, maintenance, training, etc.).
In operation since 2011, our clients include corporations listed on different stock exchanges, with thousands of employees, and hundreds of trips per year.
In VISADOS EMPRESAS ESTADOS UNIDOS we also offer support services for foreign companies that decide to open a subsidiary in the USA. We accompany you throughout the process of opening the company and subsequently help you to comply with all the requirements in tax, labor and social security matters for both the company and its employees, nationals and expatriates
Specialists in advising on the movement of workers for international companies.
Visados Empresas is a Spanish company with a wide range of services aimed at facilitating the international mobility of workers.
In order to carry out a correct mobility, it is necessary to get advice to know first hand the aspects related to immigration, taxation and social security legislation.
That the management of visas and work permits ceases to be a problem for companies that need to process them and move their workers with total security and at the same time facilitate the business development of foreign companies that decide to start a business activity in our country.
We offer services that put an end to headaches and provide security.
We do not say we have expertise in what we do not have. We do not know all the visa processes in the world. But we can study and understand them to be able to offer them. Always with sincerity.
If we commit ourselves to manage a visa, the client knows that we will do everything in our power to make it happen. If we find it difficult, we tell them so.
We are aware that everything we do during the management process can have an influence on the final result, for this reason "we don't do anything for the sake of it".
We are experts. We have knowledge, and we apply it to make sure things are done correctly.
Our commitment to the end result is personal, from each of us. If it doesn't come out the first time, it will come out the second or third time. We have to bring the ship to port. Failure is not an option.
Our clients perceive that the price they pay for our services compensates the value they get from them.
WORKERS DISPLACED IN 2022
COUNTRIES IN SERVICE CATALOG
Chronology of the company
VISADOS EMPRESAS becomes CUCALON ESTEVEZ Y ASOCIADOS.
Subsidiaries are created in Colombia, Brazil and the USA. A strategic agreement is signed with the company MERCER for the management of its clients' visas. CUCALON ESTEVEZ Y ASOCIADOS consolidates its position as a leading company in Spain in the management of visas for companies.
VISADOS EMPRESAS is created
The visa management platform is launched and it is decided to focus visa management on services exclusively for companies.
Estela Cucalon joins the shareholders of INVERBRAS
With its incorporation, INVERBRAS includes international and general visa management in its portfolio for the first time.
INVERBRAS manages more than twenty visas for the company NAVANTIA
Related to a project that this company was carrying out in Brazil.
Antonio Estévez creates INVERBRAS
Company dedicated to the internationalization of Spanish companies with an important focus on Brazil.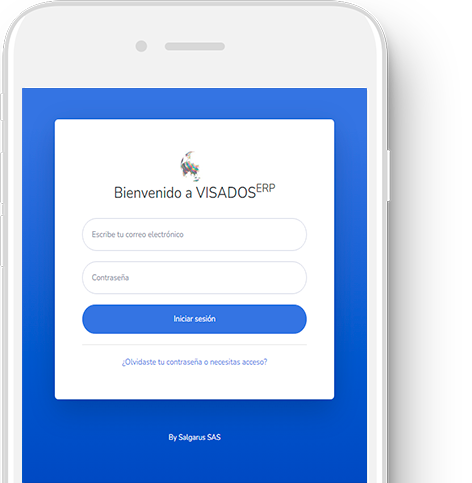 PROPRIETARY SOFTWARE FOR OUR CUSTOMERS
Software for corporations
In VISADOS EMPRESAS we have developed a proprietary software that allows our clients to manage their mobility process in the most professional way possible:
Receipt of closed quotations in price and scope by mail.
On-line acceptance of budgets.
Different payment methods: credit card, bank transfer, bank check.
Customer portal for project tracking.
On-line management of documentation.
On-line access to the project manager.
Global vision.